Security: Cloud Accounts
In the Security Cloud Accounts Overview page, you can view and manage security scan results for your AWS cloud accounts.
Tip
To manage security scan jobs or to run one manually,

follow the instructions in Security: Scan Jobs.
With the Free service plan and Starter service plan, you are limited to 10 cloud account security scans per month.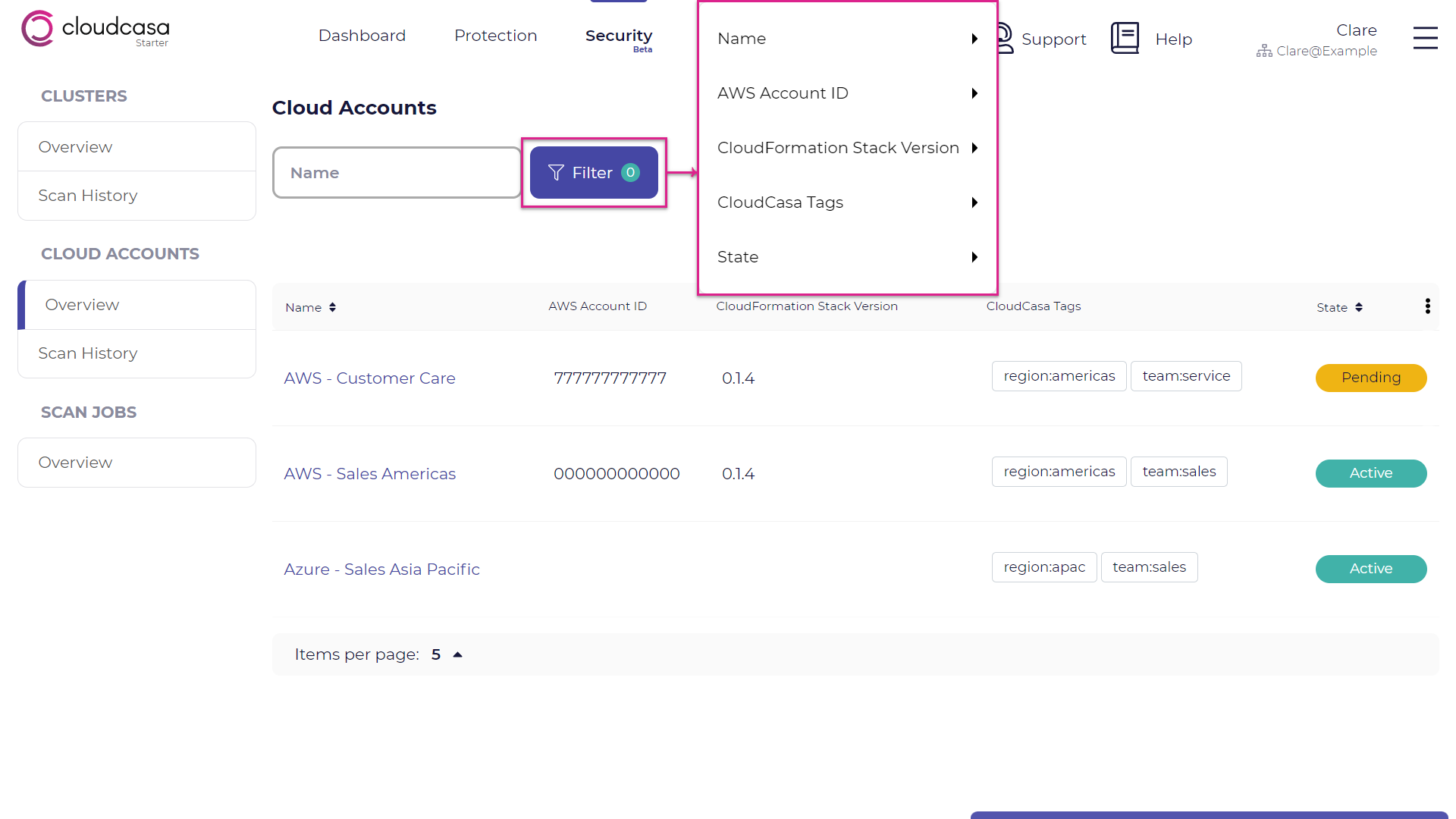 You will be presented with a list of all AWS cloud accounts defined for your organization. Clicking on an account will take you to the security dashboard for that account.
The Cloud Account Results Dashboard
The latest scan results will automatically be selected. Click on Change Scan to display the results from a different scan.
You will see the start, end, and expiration times and the completion status for the selected scan job. The timestamps are displayed using the system time zone (TZ) of your workstation.
You can download a summary of the security scan results in CSV format by clicking Export report.
Restriction: Exporting the security scan reports in CSV is not available with the Free Service Plan.
There are five tabs: Overview, View by Service, View by Severity, Detailed View, and Bookmarks.
The Overview tab displays scan statistics including a pie chart of detected vulnerabilities by category and a count of total detected vulnerabilities. The percentage of the passed test items ("Score"), the number of test items labeled as "Passed", "Warning", "Failed", and the number of all tests ("Total Checks Executed").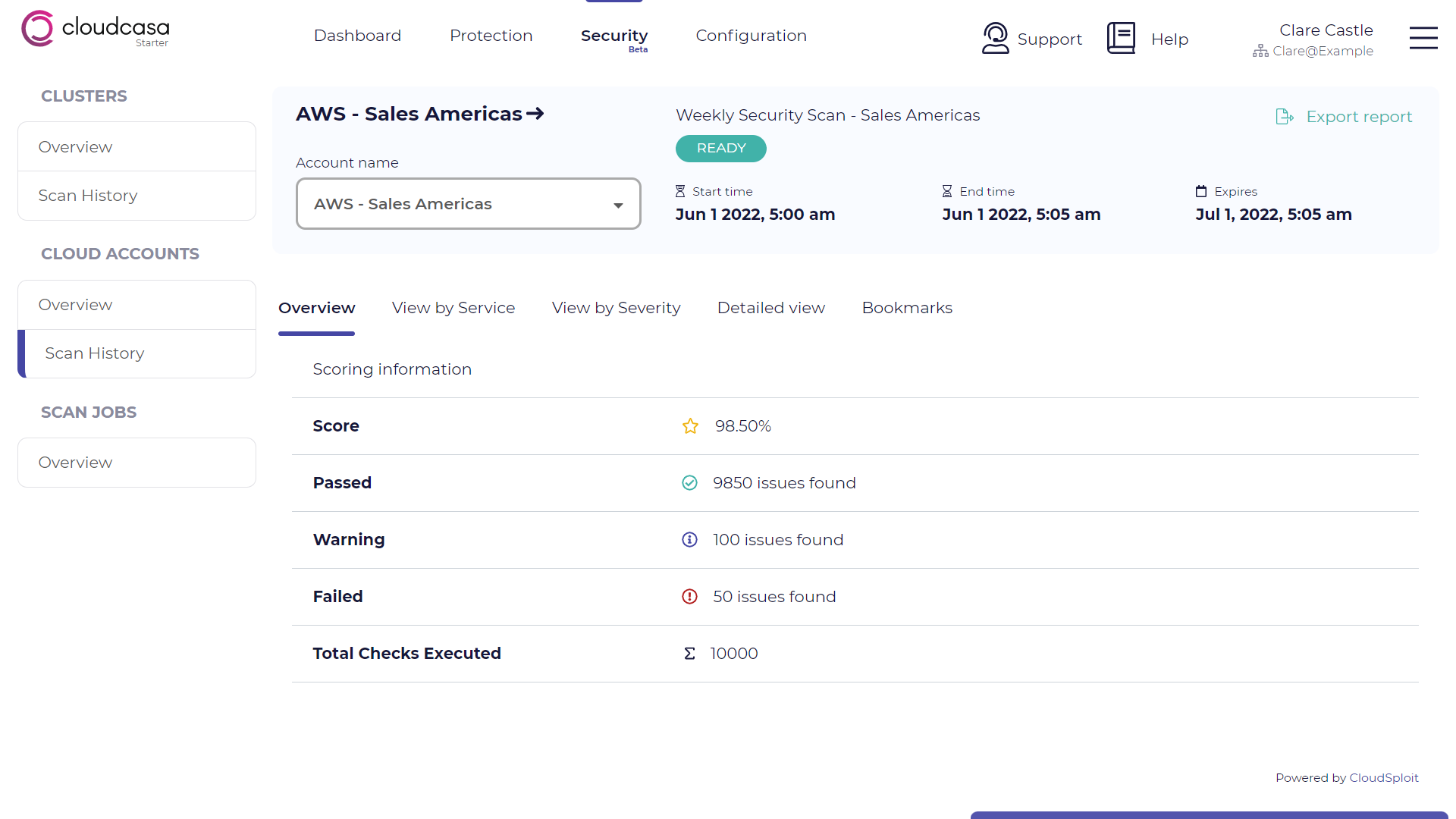 Open the View by Service tab to see a list of the test results grouped by service.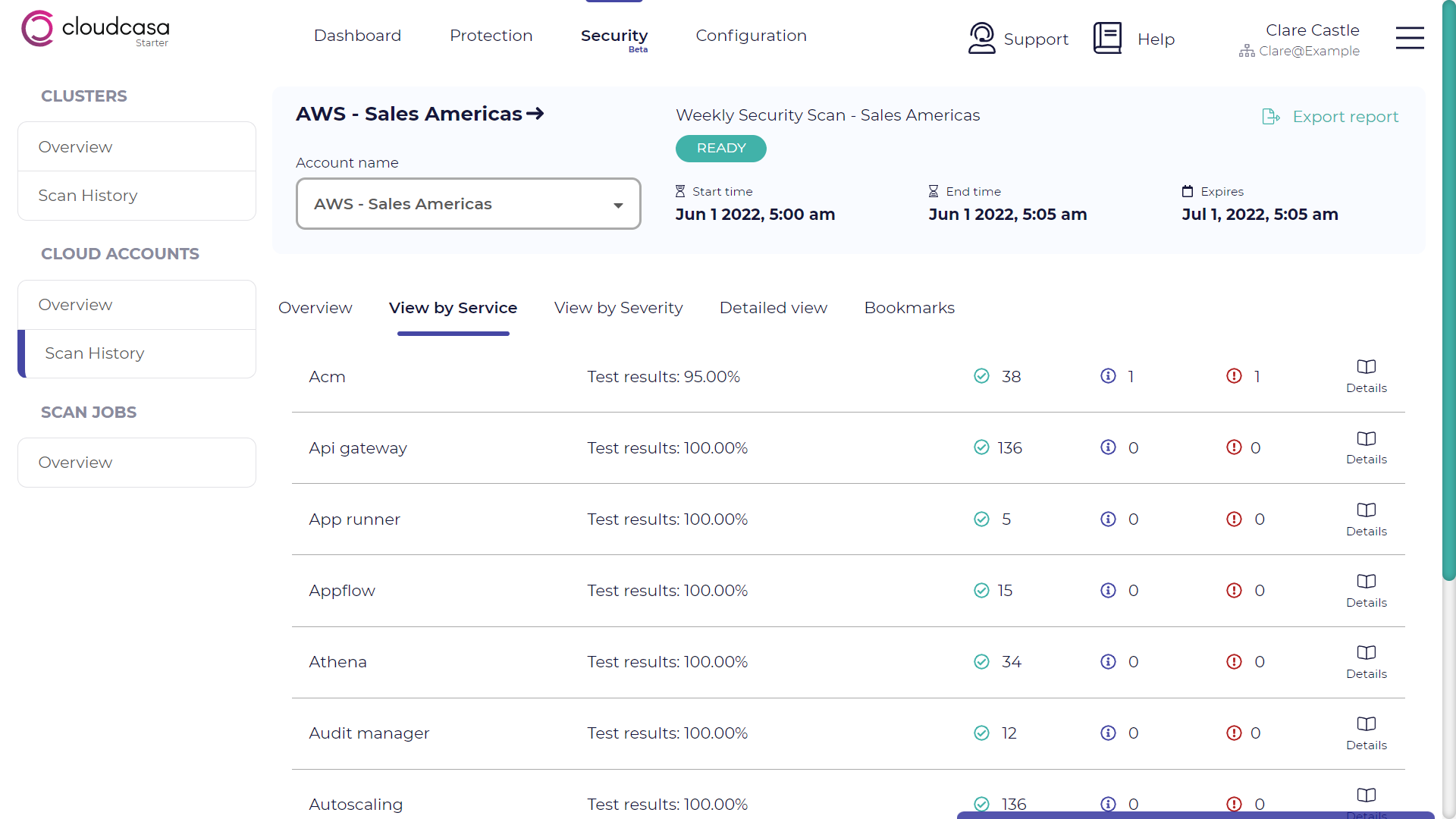 Open the View by Severity tab to see a list of the test results grouped by severity: Critical, High, Medium, and Low.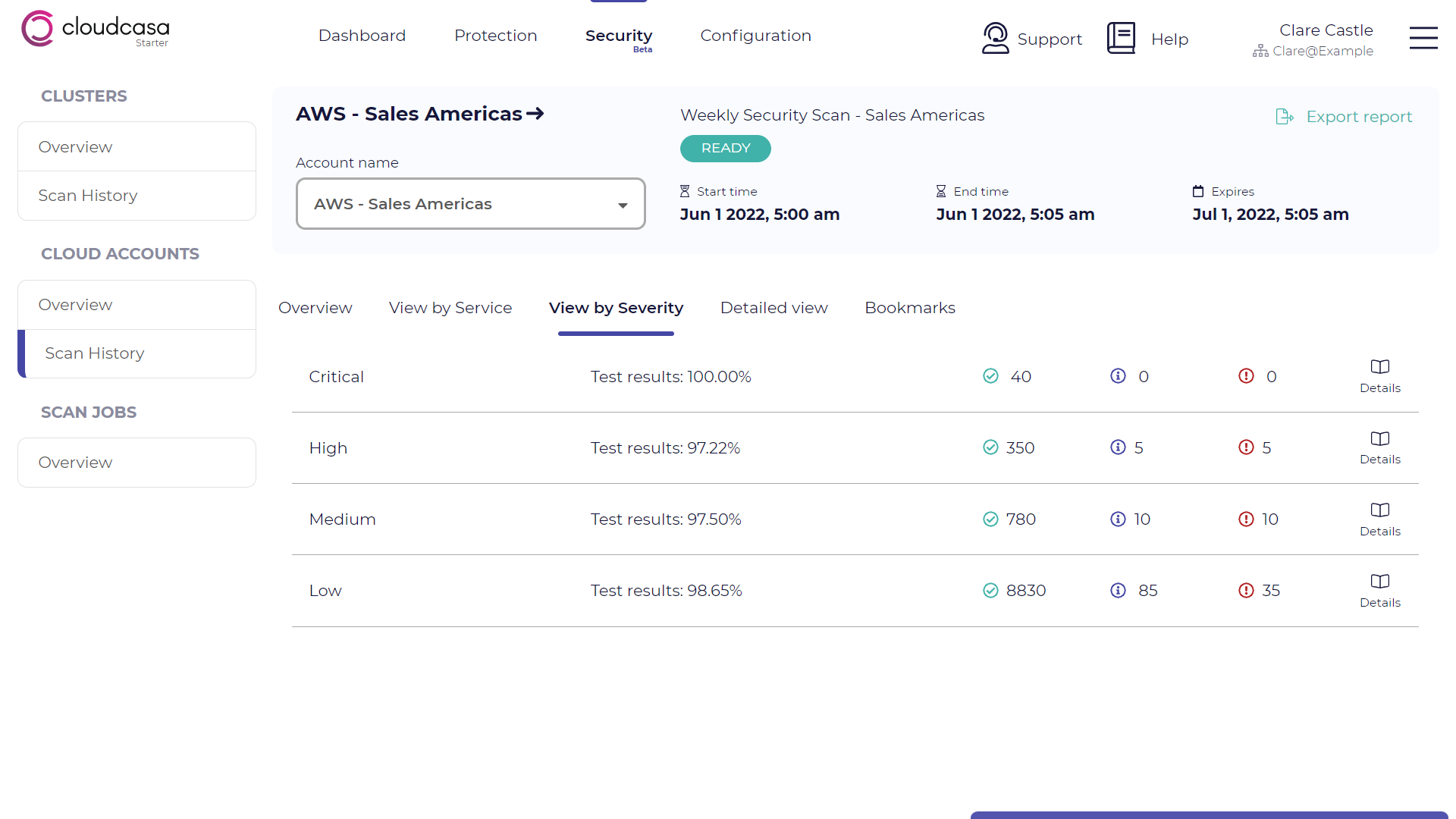 Click Details for a severity and you will see a list of test items and results with this severity. Some items have a "Remediation Link" which refers you to the relevant web page for remediating this item.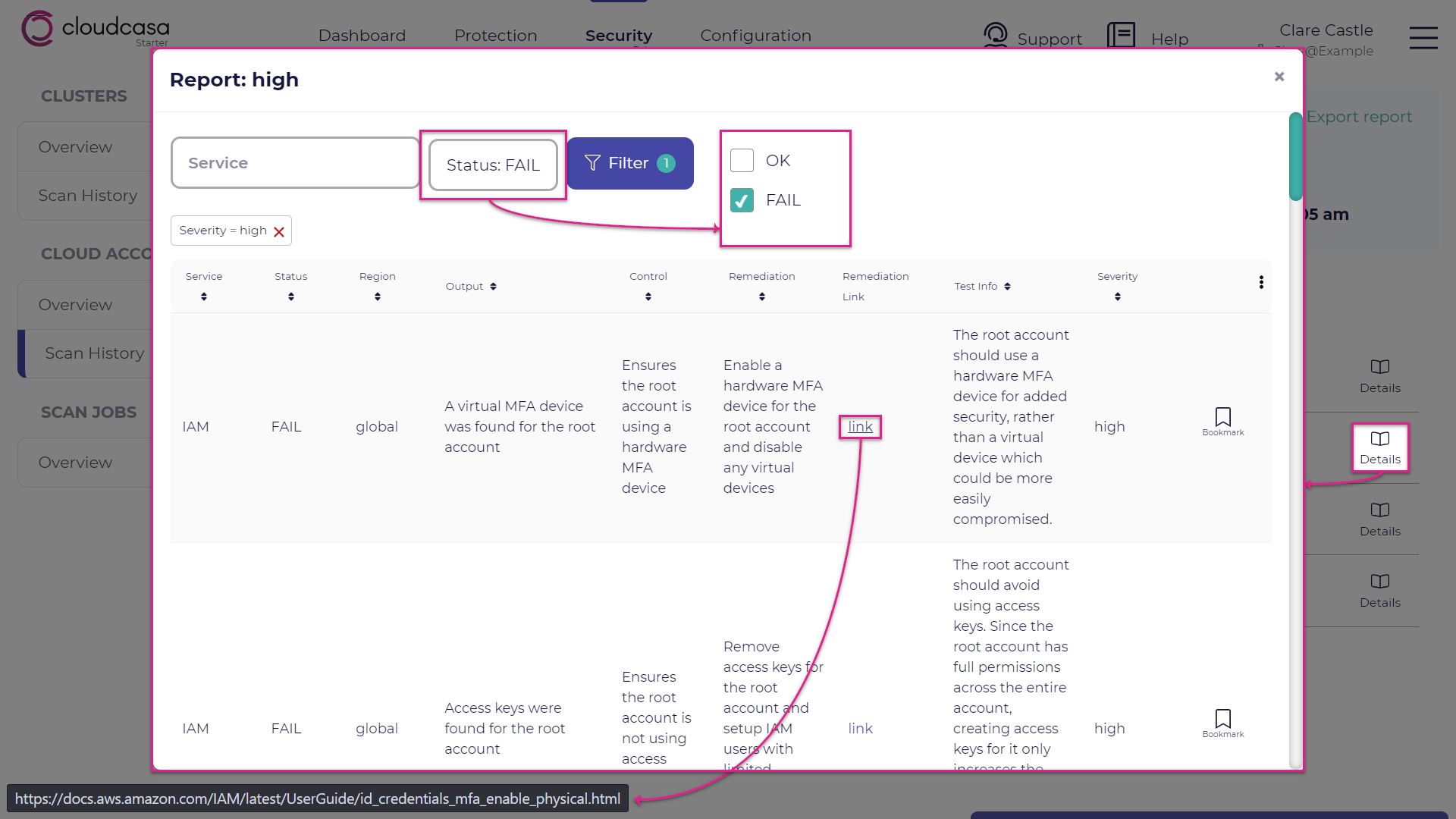 Click Detailed view and you will see a list of all test items and results. You can sort and filter the items in the list by Service, Status, Region, Output, Control, Remediation, Test Info, and Severity.
The Bookmarks tab allows you to quickly view items that you have bookmarked in the other tabs.
Cloud Accounts Scan History
The Cloud Accounts Scans page (Security/Cloud Accounts Scan History) lists available cloud account scan results from all scan jobs. The table displays summary details for each scan including Name, start time, end time, scanned accounts, and state. Clicking on a scan will take you to the Cloud Account Results Dashboard to display the results for that scan.