CloudCasa User's Guide
Overview
CloudCasa by Catalogic is a backup service that is built for protecting Kubernetes, cloud databases, and cloud native applications. As a Software-as-a-Service (SaaS) solution, CloudCasa eliminates the complexity of managing traditional backup infrastructure, while providing the same level of application consistent data protection that more traditional backup solutions provide for server-based applications. Further, it provides disaster recovery, security, and workload migration features that traditional backup solutions don't.
With CloudCasa's free service offering, you can protect an unlimited number of Kubernetes clusters with an unlimited number of worker nodes. This includes backing up Kubernetes configuration and resource data, and protecting persistent volumes (PVs) by using local snapshots. You can also protect an unlimited number of RDS cloud databases using snapshots, including snapshots copied to alternate regions. Retention periods are limited to 30 days with the free service.
With CloudCasa's premium service offerings, you get all the features of the free service plus the ability to copy PV snapshots off to backup storage. The storage is included in the price of the service, which is based on the amount of data that you protect. You can also provide your own object storage. Premium service levels offer unlimited retention periods, the ability to use SafeLock™ to prevent deletion of recovery points before their retention periods have expired, and other advanced features such as API access.
You can use CloudCasa's security posture review features for Kubernetes clusters and related cloud infrastructure. This makes it a general-purpose tool for managing the overall cyber resilience of your cloud native applications.
CloudCasa can store your backup data in three types of storage:
CloudCasa managed storage (Available in multiple cloud providers and regions)

Public cloud object storage account that you control

Amazon Simple Storage Service (S3) or compatible

Microsoft Azure Blob Storage

Private S3-compatible object storage that you control, either on-site or in the cloud.
Backup location defaults can be specified organization-wide and per-cluster, and can be overridden at the individual backup level.
You can sign in to CloudCasa and protect your assets in minutes!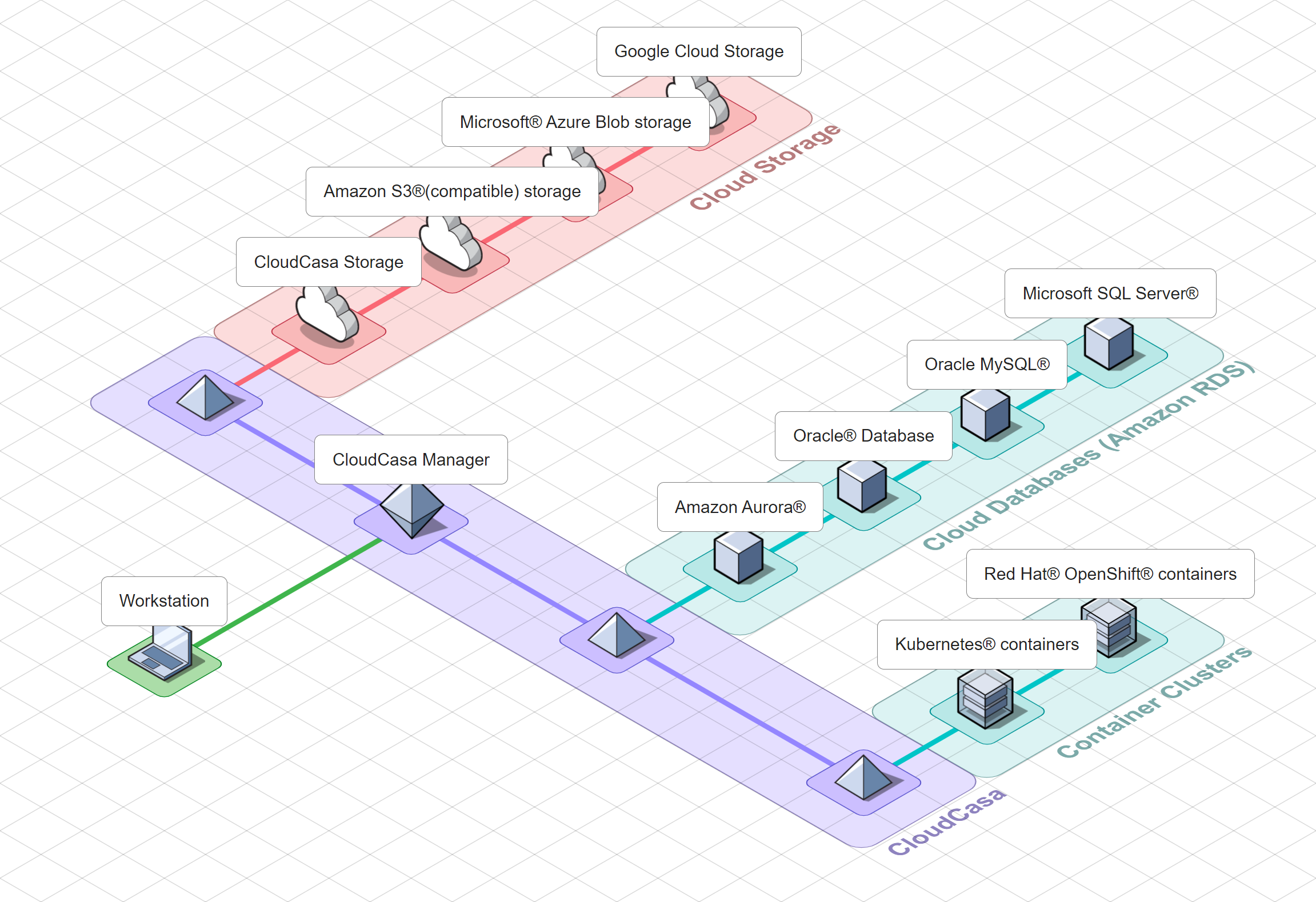 Additional support
For additional information about CloudCasa, see the following resources:
Or, contact Catalogic Support for assistance.
---
Catalogic is a registered trademark of Catalogic Software Inc. CloudCasa is a trademark of Catalogic Software Inc. All other company and product names used herein may be the trademarks of their respective companies.